Don't make these common kitchen design mistakes when remodeling your home.
Kitchens are the most used room in the house and the most popular to renovate. A kitchen remodel is a great investment, and it pays off by improving function and boosting your home's value. It's easy to get wrapped up dreaming about colors, selections, and other design esthetics, but it's extremely important not to put finishes before a function. When your design is well planned and thought out you can avoid making common kitchen design mistakes.
Here are some of the most common kitchen design mistakes that are made.
1. Ignoring the kitchen work triangle. Your stove, sink, and refrigerator make up the three points in the work triangle. It is important to keep the space between each point between four and nine feet. You do not want to place appliances, cabinets or trash cans within the path of the triangle.
2. Inadequate storage. You need to have enough and the right kind of storage. Your cabinets can be designed with drawers or shelves, with special racks for spices or dishes. Consider everything you need space for in the kitchen and where you need access to it. When a kitchen is small, you can maximize space by installing cabinets up to the ceiling and above refrigerators.
3. Not enough counter space. Remember that you need space to place countertop appliances and to prepare meals. Think about how you use the kitchen and how to create multiple work spaces.
4. Poor lighting. You should have three types of lighting - general, task, and accent lighting. General lighting such as recessed lights provide overall illumination. Task lights such as pendants or track lights highlight your prep zones and under the cabinet or in-cabinet lights provide accents.
5. Hindering ventilation. Remember those gas cooktops need proper ventilation and that means selecting the right size hood and making sure you have enough clearance around cabinets and work areas.
6. Forgetting to conceal trash and recycling bins. Dedicate a cabinet or two to proper trash stowing.
7. Improper island size and placement. Many times islands are too small or too large for the overall kitchen space. Be reasonable in what will fit and where you can place it without hindering the flow.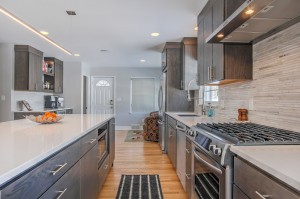 8. Improper positioning of appliances or drawers. Make sure you have the space to stand in front of the appliance or drawer and open it without you or it bumping into another cabinet or wall.
9. Choosing cabinets based on price not quality. It's true that cabinets are the most expensive component of your remodel. Remember that they need to withstand daily wear and tear and inexpensive cabinets will affect the overall appearance of your kitchen remodel.
10. Forgoing the backsplash. Although this may seem like a purely cosmetic feature, it is not. The backsplash protects your walls from water, steam, and grease.
If you are considering a kitchen remodel, we'd love to help you create a space you will love for years to come. Please contact Thompson Remodeling to get started.

Topics: Love Where You Live, Kitchens, Thompson Tips