Universal design elements have become a very popular trend in remodeling. The reason can be attributed to the growth in multi-generational living and baby boomers that have decided to age-in-place rather than move. Even younger homeowners will find some of these attributes desirable for their homes. After all, universal design can be defined as products and spaces designed to make your home more accessible, safe and easy to use. That is attractive to homeowners of all ages!

Here's a list of 15 simple universal design elements you can incorporate into your remodeling project.
1. Use more drawers and fewer cabinets in kitchens. Deep, full extension, soft-close drawers that can hold pots, pans, and dishes.
2. Microwaves installed at or just under counter height.
3. Side open ovens
4. No-threshold, walk-in showers
5. Shower benches
6. Bathroom vanity spaces that can accommodate a chair, stool or wheelchair.
7. Comfort height toilets
8. Water valves at shower entries
9. Hand held shower heads
10. Thermostats and light switches placed 48" on center
11. Lever handles on doors
12. Casement windows with cranks
13. Door openings and doorways with a minimum of 32"-34" width
14. Pocket doors
15. First-floor master suites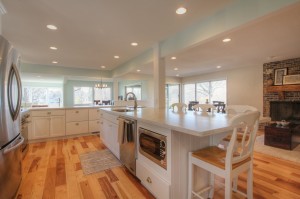 If you would like to discuss how to incorporate universal design into your remodeling project, please contact Thompson Remodeling.
Topics: Trends, Love Where You Live