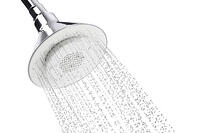 Meet Moxie
The Moxie showerhead + wireless speaker gives a whole new meaning to singing in the shower. Moxie delivers up to 7 hours of music, news, and more. Combined with a spray face that features 0 angled nozzles with full enveloping spray. Moxie is also available with water- saving 2.0 pm or 2.5 gpm spray. Sharing your Moxie is easy weather you are syncing from up to 32 feet away or playing music wirelessly anywhere in or out of your home. Visit http://www.us.kohler.com/us/ for more on the Moxie.
Dyson air blade
This unusual hand dryer forces unheated air through a 0.3 mm tube along its entire 9 inch width at over 400 miles per hour creating a high velocity blade of air that will wipe your hands dry in 12 seconds. At the same cost of one single paper towel, the Dyson Airblade cleans 22 pairs of hands. Visit http://www.dysonairblade.com/.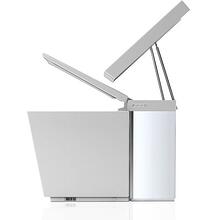 Numi
The Numi is hands down Kohler's most advanced toilet. The Numi is equipped with motion-activated lid and seat, advanced bidet functionality, deodorizer, heated seat and foot warmer. The Numi can play a selection of music from its pre-programmed audio, FM radio, or from the MP3 connection. Each of these features is controlled through the remote docking station. For more information on the Numi and other Kohler, products visit www.kohler.com.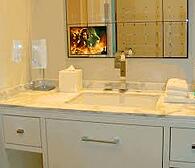 Eclipse Television Mirror
Now you can add sophistication and elegance to your bathroom with the Eclipse Television Mirror. The Eclipse Television Mirror embeds an LCD TV behind a two-way mirror. Once turned off the TV is completely unable to be seen.
Smart Faucet
Unlike any other faucet, the Smart Faucet uses facial recognition to recognize the user and automatically turn on the water to the preferred temperature and flow. A touchscreen allows you to access email, check the temperature outside, along with other things. IHouse also integrated LEDs in the tap to show the variation of cold and hot water temperatures through red and blue light.
Topics: Love Where You Live