Let's talk about lighting trends! The lighting plan is an essential part of the remodeling design for any space. As designers, one of our top goals is to ensure that a room has adequate lighting to perform daily tasks comfortably. Once we understand the functions the lighting must perform, then we can move on to the style. A client's design vision is always what drives selections. Are they envisioning something fun, romantic, cozy, artsy, rustic, modern, vintage...you name it. Every few years, specific lighting trends will emerge and really become popular in the spaces we are remodeling.
Here are five hot lighting trends we are seeing today:
1. Single pendants. We used to see recessed lighting in kitchens and chandeliers over the dining room table all the time. Though we still see recessed lighting, now its enhanced by one single pendant light. It can either coordinate with other lighting fixtures within a room or serve as a main focal point.
2. Mini-pendants in sets. Mini-pendants have also started to replace or enhance recessed lighting. They work great as task lighting and are very often seen over a kitchen island. Pendant lights come in a wide variety of styles from traditional to super modern so it's easy to find a style that will work within your space.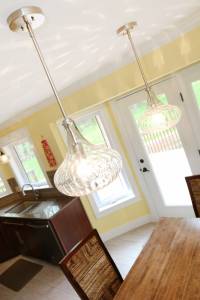 3. Large scale. We are talking oversized here. Think of a big lantern style light or even oversized pendants used alone or together. When you select a large scale lighting fixture you are making a bold statement within your room.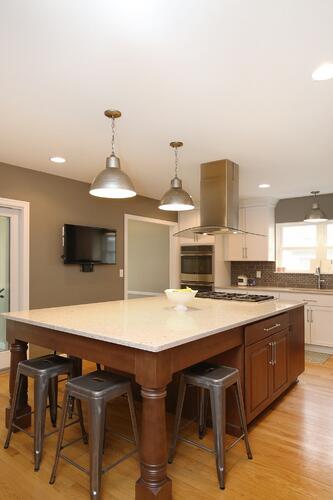 4. Glamorous. We mentioned chandeliers earlier being replaced in some situations with pendant lighting, but they have not lost there popularity. Glamorous lighting fixtures can be beaded, full of crystals or gems...anything sparkly goes. We find glamorous lighting making its way into bathrooms and kitchens regularly.
5. Industrial. Industrial lighting uses materials like pipes, wrought iron, steel, or wood frequently showing off exposed light bulbs. Our clients love the industrial lighting trend. Though typically simplistic, an industrial light fixture really grabs your eye.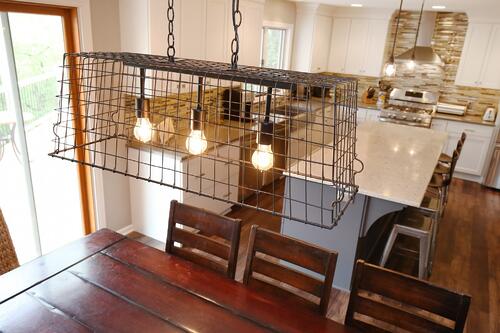 Topics: Trends, Love Where You Live