The kitchen is the heart of the home. The island is the hub of the kitchen.
Kitchen islands are a key element of your overall kitchen design. And that makes sense since its placement establishes the traffic pattern and is often a main focal point.
Most homeowners would like a kitchen island, but it's best to understand how you intend to use it before you design it. Here are the five key things to consider before designing your kitchen island.

1. Define the function(s) that it will serve. Will your kitchen island be used for preparing, cooking or serving food? Does it need to provide seating and serve as an eating area? Perhaps you need to accommodate two or more functions and it becomes a multi-purpose area.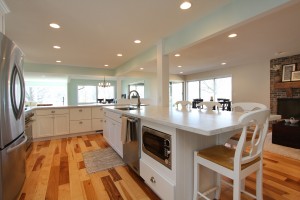 2. What types of appliances does it need to house? After you've determined the function of your kitchen island, you can then start to consider which appliances you would need to incorporate in the design. In smaller kitchens the main sink can be found in the island, or in larger ones a second sink. You may want to place your dishwasher next to the sink. Another popular appliance found in the kitchen island is the below counter microwave. A large island can accommodate a cooktop.
3. What type of storage is needed? A kitchen island can provide additional storage in kitchens with less cabinet space. Drawers are very popular in islands. Consider special storage needs you may have such as baking trays and pans, wine racks, or shelves for cookbooks.
4. Determine the counter height. The counter height for a kitchen island is typically 36 or 42 inches. A 36" counter will accommodate table height seating, while a 42" will work with high bar stools. You can have an island with two levels; one side for working and one for seating.
5. Placement. A kitchen island should have a minimum of 42 inches of aisle space on its working sides. The placement will define the traffic pattern in your kitchen.
A professional designer can guide you through the entire process of your kitchen design and determine what type of kitchen island will best suit your needs.
Topics: Love Where You Live, Kitchens, Thompson Tips