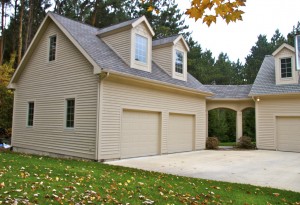 One of the most ignored spaces in a home is the garage. We park our cars in it, store our stuff in it and use it as the catch all for the things we're not sure what to do with. However, when we are looking for more living space, do we think of the garage?
If a tidier storage and utility space is what you are looking for, there are a variety of garage organizational systems available. Decide what is important to you and then look for the system that best fits those needs. Are you trying to get all the stuff off the floor and out of the way? There are wall storage units for every need and overhead units to free up space to park your cars in the garage.
If you are looking for more indoor living space for your family, the possibilities are endless. Take into consideration the placement of your garage in relation to the yard and the rest of the home. A master bedroom off the kitchen (where the garage used to be), looking out onto the back yard with a patio and beautiful windows might be perfect. Maybe the best use for this space would be a TV or media room so that the whole family could enjoy being together, right next to the kitchen.
Garages also provide space for larger doorways. This can be especially important if you are looking for a handicapped accessible area or one that will accommodate walkers and other assistive devices more easily.
Although converting your garage may at first sound daunting, the pay off in the end is well worth it. Maximize your home's potential and create the living space of your dreams.
Topics: Love Where You Live