Don't forget these 5 items when planning your kitchen remodel.
We know there are a lot of things to consider when planning a kitchen remodel. And we bet that you already have a mental list of what you'd like to have in your new kitchen and that's great! To help you with your planning, we've put together a list of five items that you may not have considered, all with the purpose of adding to your kitchen's overall functionality and ease of use.
An Oversized Sink
For those who cook often, especially for a large family, dirty dishes can pile up fast. If loading the dishwasher immediately following each meal is an issue in your house, you may find yourself lacking sink space. Larger items like stock pots and cutting boards are easier to clean in a larger sink. A bigger sink might be even more critical if you want a divider or double sink, as that further limits the space you have to work with. Take it one step further and look for a sink that will make a statement. Apron style sinks have become increasingly popular, but there are many other decorative styles to choose from, too.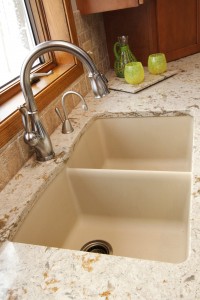 Touch Activated Faucet
Shopping for a new kitchen faucet can be overwhelming with so many options and a wide range of prices. While a spray nozzle might be nice to have, even nicer is not having to dirty the handle to turn on your water. Anybody who cooks knows what a luxury this could be. If your hands are full and you need water, no problem. Gone are the days of fumbling and smudging up your shiny sink decor.
Refrigerator with In-door Filtered Water & Ice
Choosing a fridge is a big decision so you'll want to make sure yours has all the necessary equipment and options. A door-mounted ice dispenser frees up space for additional shelving in your fridge. Any home is happier with quick access to water and ice! Think about how much money you could save if you stop buying cases of spring water. Plus, the filter system on your fridge is likely far superior than the purified water you are buying in bulk. Look for a filling station with a pull-out ledge that allows you to rest your glass or pitcher while it fills, freeing your hands to work on something else. One step better is a water option that dispenses allocated amounts and automatically turns off when your item is full.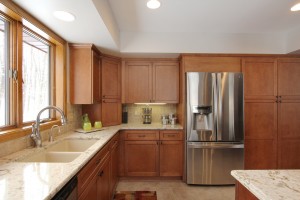 Proper Wine Storage
For wine lovers, having a feature for properly storing wine adds a beautiful finishing touch to any kitchen remodel. The most basic option is an under counter wine cooler. Those who drink wine regularly may want to add additional storage. If possible, dedicate an area of your kitchen to wine. You can install a cooler below and an open wine rack above, perhaps making room for a cabinet or glass rack too. Not only will your kitchen make a statement but you will always be prepared for cocktail hour.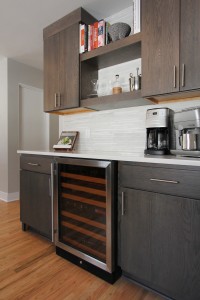 Pantry Organizing System
One of the often overlooked areas of a kitchen is the pantry. This is the one area that can help keep the rest of your space cleared of clutter. When cooking for a family it is helpful to stock up on staples and always have snacks on hand. Having an organized space to house your goodies can make shopping more efficient. If you have the extra space, think about other items you might want to store, such as serving and holiday items. Keep your newly remodeled kitchen in showroom condition by making the most of your pantry.
Topics: Love Where You Live, Kitchens