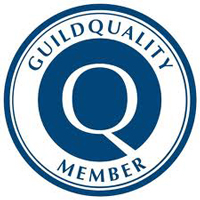 The best home building and remodeling companies use GuildQuality to receive real-time customer feedback, monitor and improve quality, and articulate that quality for prospective customers.
As a GuildQuality Guildmember, Thompson Remodeling Inc. relies on GuildQuality for customer surveying to help them deliver an exceptional customer experience.
GuildQuality has surveyed customers on behalf of Thompson Remodeling Inc. in Grand Rapids, MI; Ada, MI; E Grand Rapids, MI; Lowell, MI; Jenison, MI; Kentwood, MI; Rockford, MI; Byron Center, MI; Alto, MI; Grandville, MI; and 11 other cities in Michigan.
Thompson Remodeling Inc. has published a summary of the customer feedback they've received since they joined GuildQuality in October 2007. In that time, 68 out of 79 customers (86%) responded to a GuildQuality satisfaction survey, with the most recent response in May 2012.
Read our 'Client Talk" page for a complete list of our clients feedback.
http://test.manobyte.com/thompsonremodeling/category/client-talk/
Topics: Love Where You Live