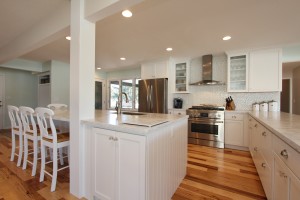 Grand Rapids, MI, February 6, 2014—The National Association of the Remodeling Industry (NARI) named Thompson Remodeling, in Grand Rapids, 2014 East Central Regional Contractor of the Year (CotY) in the Residential Kitchen $40,000 to $80,000 category of its annual awards competition.
"We were very excited to hear that we won this award and couldn't wait to share the news with the homeowners," said Ben Thompson, President of Thompson Remodeling. "Our clients wanted to create a kitchen that would become the center of their entertaining areas, allowing guests to socialize with them while preparing meals. Our team at Thompson created a great space to do just that!"
Contractors from seven regions around the country vie for CotY Awards on an annual basis. National winners will be announced and honored at NARI's Evening of ExcellenceSM reception on Friday, March 28, 2014, at the New Orleans Marriott, in New Orleans. National winners will be announced via Webcast the evening of March 28, and the Webcast will be available for viewing for 30 days afterward on www.nari.org/eveningofexcellence.
All projects submitted for judging were an improvement or an addition to an existing structure, with the exception of one category, "Residential Exterior Specialty." Otherwise, new construction projects were not eligible.
Thompson Remodeling's winning kitchen project is in a 1970's waterfront ranch. The kitchen was dark and closed in by walls separating all the entertaining areas. It was starved for natural light and had no view of the gorgeous lake right behind the house. The new design makes the kitchen the hub of the home. By removing four walls, the entire first floor opened up and allowed the creation of the perfect kitchen for the social chef. Guests can flow in and out while taking in a great view of the lake. The kitchen has been used nearly every weekend since it was completed. In fact, the homeowners hosted a wedding reception for 100 guests and said that the space worked perfectly.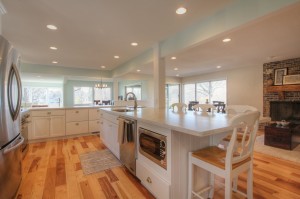 Competing projects were completed between July 1, 2012, and November 30, 2013, and were not submitted in previous NARI National contests. An impartial panel of judges, experts within the remodeling industry and associated fields, selected winners based on each entrant's binders, which include "before and after" photography and project descriptions. Judging focused on problem solving, functionality, aesthetics, craftsmanship, innovation and degree of difficulty.
To be considered for a CotY Award, a company must be a NARI member in good standing. The entries of this year's competition totaled more than $72 million worth of remodeling projects. NARI members represent an elite group of the approximately 800,000 companies and individuals in the U.S. identifying themselves as remodelers.
About Thompson Remodeling:
Based in Grand Rapids, Michigan – Thompson Remodeling is a design/build residential remodeling firm that has been serving Grand Rapids and the surrounding area for 33 years. Our award-winning firm is recognized as an industry leader on the national, regional, and local levels.
Thompson Remodeling partners with you to discover your style and vision for your home. We create a custom design to meet your specific needs that is uniquely yours. Our process ensures that there are no surprises – your custom project will be built on time, on budget, and to your approved project plans. We want to help you Love Where You Live. For more information visit www.thompsonremodeling.com or call 616.942.1866.
###
About NARI: The National Association of the Remodeling Industry (NARI) is the only trade association dedicated solely to the remodeling industry. The Association, which represents member companies nationwide—comprised of 63,000 remodeling contractors— is "The Voice of the Remodeling Industry."™ To learn more about membership, visit www.NARI.org or contact national headquarters, based in Des Plaines, Ill., at (847) 298-9200.
Homeowners are estimated to spend a total of $150 billion on home improvements in the U.S. through 2014, according to the Joint Center for Housing Studies.
NARI is a professional association whose members voluntarily subscribe to a strict code of ethics. According to results from the 2012 Member Profile Study, NARI members outpace the industry norm in sales, production and employees, when compared to professionals represented in the Home Improvement Research Institute's (HIRI) 2011 Remodeling Professional Study.
Consumers may wish to search www.NARI.org to find a qualified professional who is a member of NARI or call NARI National at (847) 298-9200 and request a free copy of NARI's brochure, "How to Select a Remodeling Professional."
Topics: Love Where You Live, Thompson Times, News