Lighting is always a critical element of any remodeling project. There are certain aspects of a lighting plan that are must-haves such as overhead lighting, which is responsible for providing the ambient light or the main source of artificial light in a space. You should also have sources of accent or task lighting, which is where you can be a bit more creative with your options and solutions. In our blog today, we want to discuss the benefits of utilizing under and interior cabinet lighting in your remodeling project as accent or task lighting.
---
First, let's look at a side by side comparison of the same exact space with and without cabinet lighting.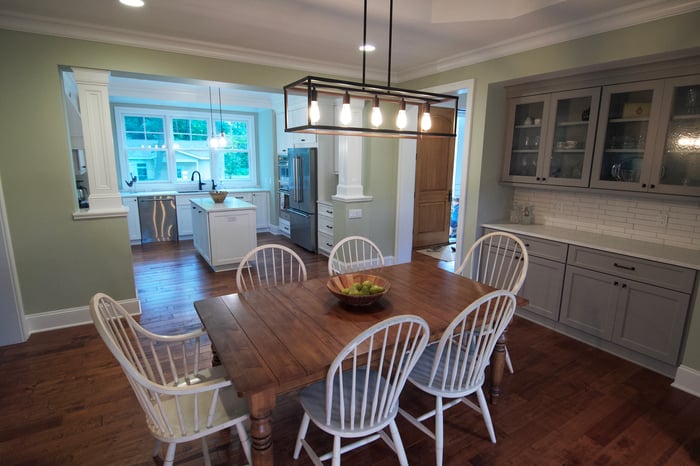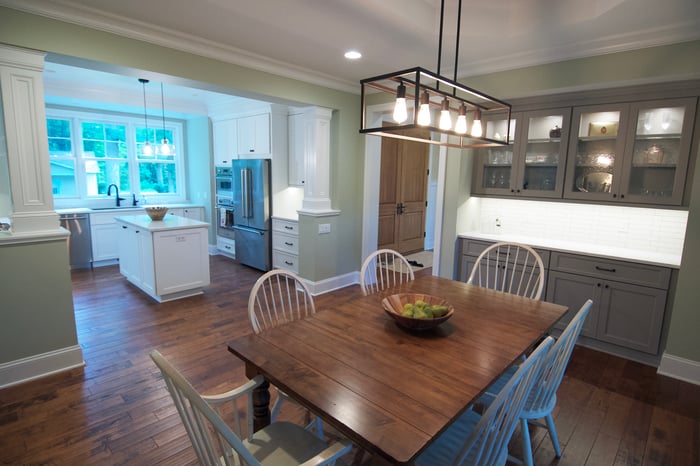 Wow! That comparison is pretty amazing. You can surely see how much better the built-in buffet cabinetry looks with its lights on, but you can read the expanded benefits below.
Benefits Under Cabinet Lighting
Provides task lighting for countertop activities such as preparing or serving meals.
Eliminates shadows created by overhead lighting.
Enhances ambiance by adding warmth and elegance to a space.
Highlights a beautiful backsplash or countertop.
Offers an energy efficient alternative to utilizing overhead lighting at all times.
It's an affordable option for adding accent and task lighting.
Benefits of Interior Cabinet Lighting
Illuminates the contents of the cabinet.
Creates a display area for favorite dishes or pieces of art.
Adds a source of accent lighting that also brings a sense of luxury to a space.
Is another energy efficient option for offering some light when complete overhead lighting is not needed.

---
If you have questions about how to improve the lighting or are considering a remodel, please reach out to the Thompson Remodeling team to discuss you home. We also invite you to take a look at our gallery to see examples of the homes we have had the privilege of remodeling over the years.
Topics: Featured, under cabinet lighting, industrial lighting