Every year the National Kitchen & Bath Association (NKBA) surveys its member designers throughout the country to find out what the popular trends will be in kitchen and bath design. This year's findings point to a movement towards clean and contemporary designs. Read on to learn more about what kitchen trends to look for this year.
Overall Style
Designers report that people are moving away from traditional styles and transitional looks are taking the number one spot. Shaker and contemporary styles are also trending and we can expect to see a rise in retro and midcentury modern looks as well.
White painted cabinets have been hot for a few years now and will continue to be favored. Gray is also extremely popular and will continue to grow, as will painted cabinets in shades other than white. Multi colored cabinet layouts remain a favorite as well. In terms of style, furniture type pieces with crown molding and glass doors are still all the rage.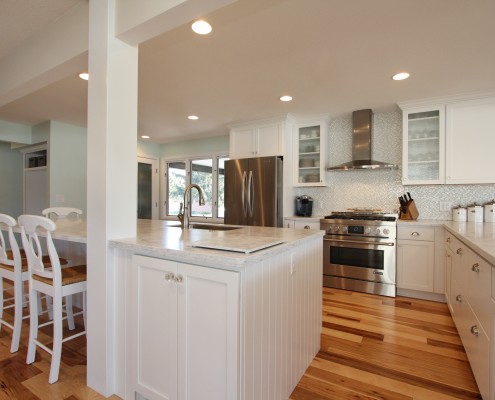 Storage
There's no stopping the storage trend in kitchens. Cabinet designs offer flexibility to incorporate all sorts of custom inserts, drawers, and pullouts. The most popular selections today are trash pullouts, lazy susans, spice pullouts and tall pantries. NKBA designers expect storage to become even more popular as homeowners will continue to request custom solutions to improve their kitchen's organization.
Countertops
We can't say that we are surprised by quartz claiming the most popular countertop material. It lends itself to use in every type of kitchen design style from traditional to contemporary and it is easier to care for than granite. Granite still remains a top trend, but it is taking a back seat to quartz.
Wood remains a favorite for flooring as does ceramic and porcelain tile. Homeowners have really taken a liking to ceramic tile that looks like wood. It's a great choice since it looks great and it's so easy to clean.
The survey also mentioned a surge in TVs and docking stations, counters replacing kitchen tables, steam ovens, and wine refrigerators.
Stay tuned for next week's blog where we will cover the top bath trends for 2015!
Topics: Love Where You Live