We often think about our dream house and what it might look like. Is it a brand new home, an old home with character, or perhaps your existing home with some major remodeling? Do I buy a new home or remodel? That's exactly the question our clients were considering when they returned back home from living overseas. They initially thought a custom home might be the way to go, but the idea of waiting through all the planning and construction seemed like a waste of valuable time they could be spending together as a family. So instead, the family decided to buy an existing home and remodel it to perfectly suit their own needs.
The first order of business was to improve the functionality of the kitchen and its adjoining rooms. The existing entry into the home from the garage was a series of small rooms off a hallway. The kitchen itself was large, but outdated and lacked a doorway out to the deck and pool.
The Kitchen Remodel
One of the focal points of the new kitchen design is the new, octagonal island made of slate stained cabinets with a Milan grey quartz countertop. For contrast, the wall cabinets have a chestnut stain with a terra brown quartz countertop.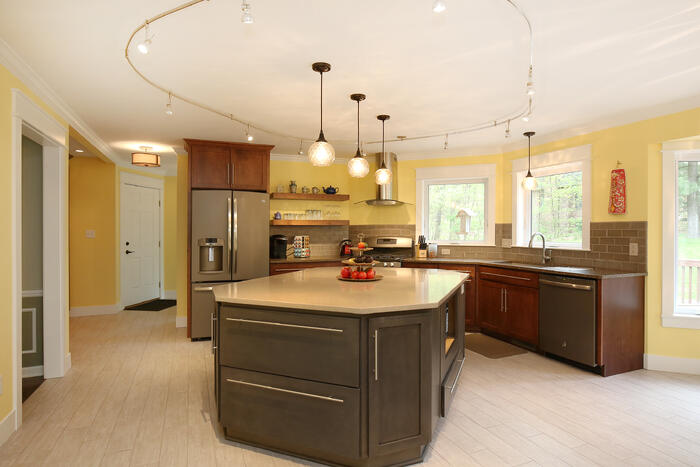 Our clients did not want to use recessed lighting in their kitchen, so we designed a custom track system and combined it with pendant lighting in other areas. For more formal family meals, we built a custom banquette that the children can also use for doing homework. The homeowner's favorite part of the kitchen is the floor to ceiling cabinetry that offers loads of storage space.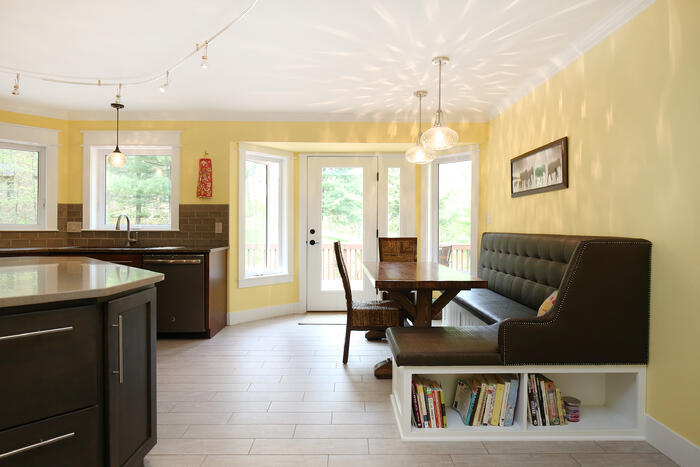 The Mudroom & Laundry Space
The children in the family are very active and involved in many activities, but this home was not built to handle their comings and goings and all the "stuff" that goes with it. We removed a closet and used the extra space to create a fantastic mudroom with custom lockers, each with its on bottom drawer on rollers, personal bench, hooks and phone charging station! We also used this area to bring in some of the homeowner's favorite bright colors.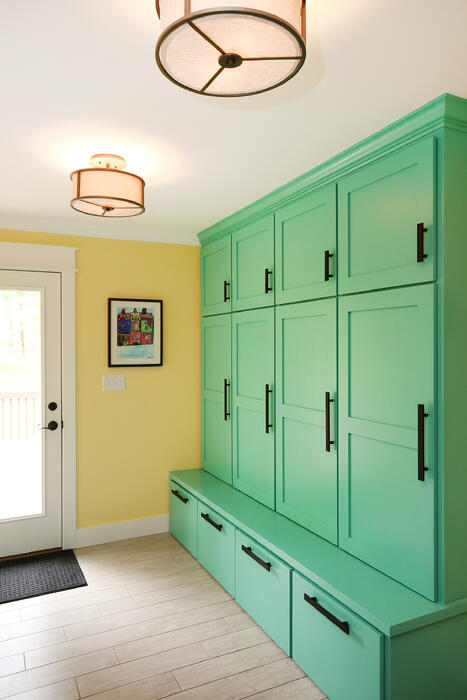 We remodeled the laundry space to make it more functional for the family. Updates include open shelves to store laundry baskets, a new sink, cabinets with an oregano stain, and a countertop at just the right height for the parents.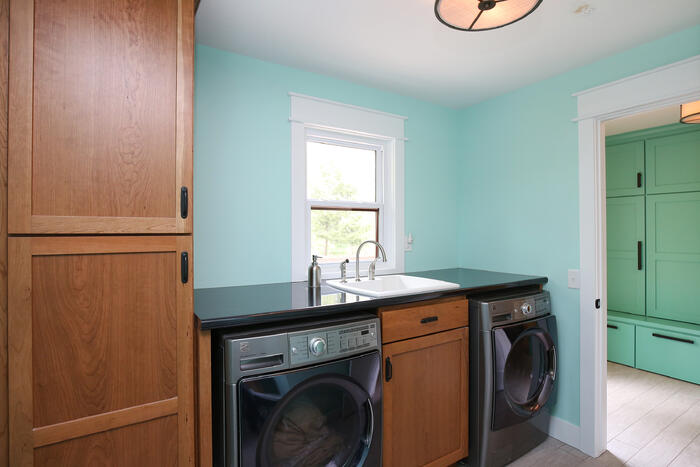 The Master Bath Remodel
The master bath received a luxurious update to create a relaxing space for mom and dad. A large tile shower replaces the old alcove bathtub and a new double vanity features java stained cabinets and quartz countertops.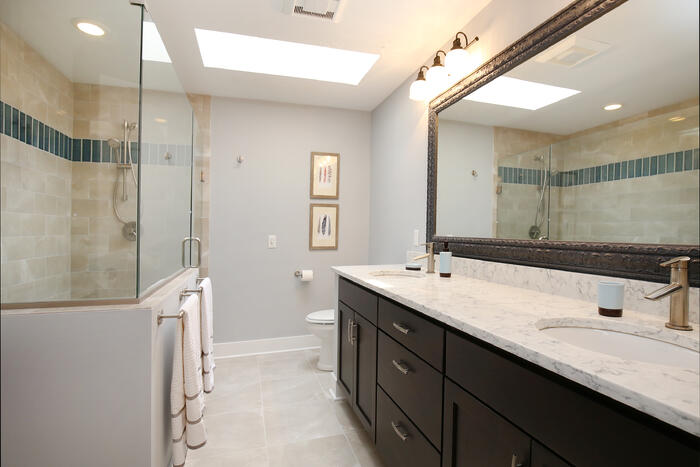 If you are facing the same question, "Do I buy a new home or remodel", don't rule out remodeling your own or another existing home. A house with good bones in a great location can be customized to suit your family's needs. Give a call to discuss the possibilities.
Topics: Love Where You Live, Bathrooms, Kitchens