Many older Grand Rapids homes were designed with small utilitarian bathrooms. Today, homeowners want more than just a place to brush their teeth and take a quick shower; they want a relaxing, well-lit space with modern luxuries. Many times, our clients want to recreate a bathroom space from a luxury hotel or vacation home they visited. And why shouldn't we want to have that kind of space to enjoy everyday at home? After all, it's the first place you'll visit in the morning and the last place before bed. So make it luxurious, rustic, modern, or whatever suits your taste.
For this remodeled bath, our clients wanted to create a sophisticated space.
Previously, the bathroom vanities were located outside of the main bath area and a cramped shower space was the only bathing option and the owners really wanted a bathtub. To gain more space, our design reconfigured the existing walk-in closet and bathroom into a spacious, four piece bath. Two new reach-in closets were built to replace the walk-in.
A freestanding oval tub with floor-mounted faucet makes a statement, while the new glass enclosed shower is nearly three times the size of their old one.
The combination of textures and finishes in this remodeled bath are modern and elegant.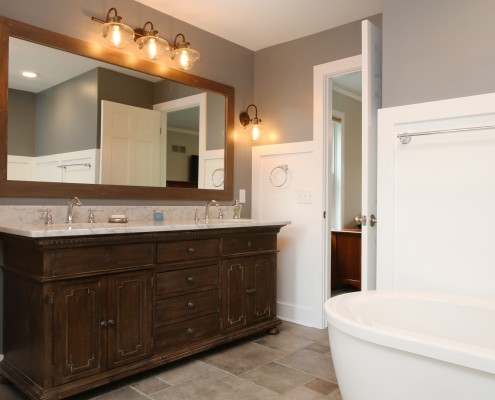 On the floor, ceramic tile is laid in a pinwheel pattern balancing nicely with the pebble tile flooring in the shower.
The homeowners selected a furniture style vanity from Restoration Hardware paired with a Tuscan white granite countertop. Wainscoting was added to walls for a traditional touch and industrial style lighting give the space a bit of an edge.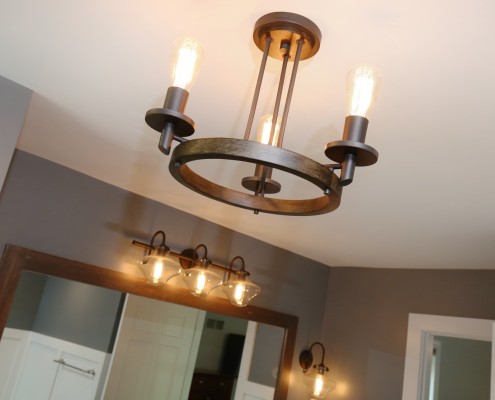 Topics: Love Where You Live, Bathrooms