Our clients purchased an old house in East Grand Rapids that needed several updates to make it family friendly. The existing floor plan had an expansive formal dining room that the owners had no plans to use. It also had a small and dark kitchen with a drafty breakfast nook area. Another problem with the layout was the closed staircase, which blocked both sight and sound of the children coming and going.
The top priorities for the design were to create a kitchen with an expansive island to indulge the homeowner's passion for baking and open up the floor plan for better connectivity to the main hall, stairway and new enclosed porch. Our clients did not need the formal living room, so we combined the existing kitchen and dining room, allowing for an 8'10"x 5'2" island.
The island has plenty of room for baking plus room to seat six for informal meals or gatherings. The remodeled kitchen includes some kid-friendly features such as the lower microwave placement in the island outside of the main work zone and the drink station with mini-fridge located right off the main hall.
We opened the main staircase to so that children can be seen and heard as they come down if you are in the kitchen working.
Spray insulation was added to the breakfast nook to make it comfortable year-round.
The selections in the remodeled kitchen are classic and timeless. Perimeter cabinets are maple wood with a marshmallow cream tinted varnish with a Cambria countertop in Clyde, a sandy/rosy hue.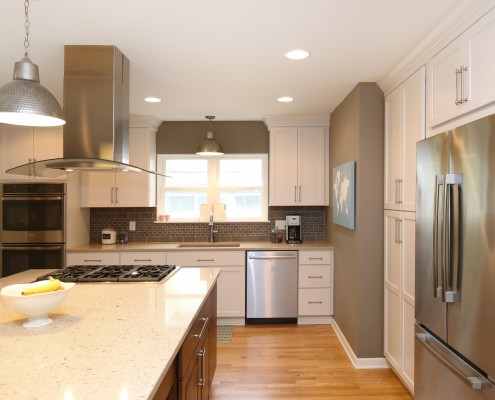 The island cabinets are alder wood with a cappuccino stain with a Cambria countertop in Darlington, with accents of khaki and olive. A ceramic tile backsplash compliments the earthy tones. The flooring throughout is 2 ¼" hardwood oak.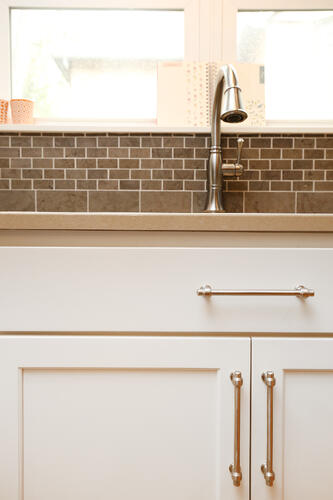 Topics: Love Where You Live, Kitchens