Tonight is the night we have been anxiously awaiting! At 5:30 this evening, the winners of the National Level Contractor of the Year (CotY) Awards will be announced and Thompson Remodeling is up for two! Our team will be watching the webcast to see the results and you can too by visiting this link. If you miss the show tonight, it will available for viewing online for the next 30 days.
This year we won Regional CotY's in the Residential Bath $50,001-$75,000 and Basement Under $50,000 categories. Regional winners in each category go on to compete for the coveted National title.
Contractors from seven regions around the country vie for CotY Awards each year. Judging is based on problem solving, functionality, aesthetics, craftsmanship, innovation, and degree of difficulty by an impartial panel of industry experts. NARI named 160 Regional CotY TM Winners from the 2015 competition, with 33 team members. Regional CotY Winners will now advance as finalists at the national level.
About Thompson Remodeling's Winning CotY Projects
Residential Bath $50,001-$75,000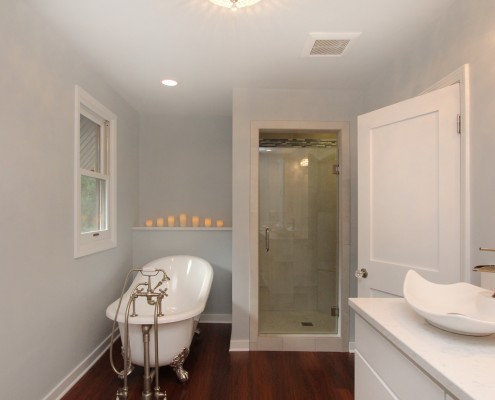 For 39 years, the owners of this four-bedroom home lived with a cramped bathroom that hardly deserved to be called a master bath. Its limited space allowed only one user at a time, lacked counter space, and was severely outdated.
The new design is the ultimate marriage of function and style. To start, the space from a seldom-used spare bedroom was captured. A custom floating vanity provides much needed counter space and storage. Multiple light sources provide task, ambient light and natural light.
A claw foot tub serves as the focal point and inspiration for the rest of the finishes. A crystal chandelier and wall sconces add an elegant "bling factor". The curve of the vessel sinks balance nicely with the straight lines of the vanity. A spa shower provides a soothing option for days when the owner opts for a faster bathing option.
Basement Under $50,000
This family's basement had become a catchall space and was sorely underutilized. Although it was spacious, the current layout wasn't working. The homeowners wanted to transform this space from closed and dreary to open and inviting.
The transformation of this basement is amazing. Walls were opened to create flow between the game room, eating space and theater rooms. One end of a staircase was closed off, enabling the soundproofing of the theater.
A light neutral palette and gorgeous lighting fixtures make you forget that you are in the basement. Unique materials such as galvanized piping, corrugated metal and cool light fixtures give the space an industrial feel.
Now, this basement functions as the great family hang out space the homeowners envisioned!
Please keep your fingers crossed for us!
Topics: Love Where You Live, Bathrooms, News