When planning any type of remodel it's important to consider not only the visual aspects of the project, but also how you can improve the energy efficiency of your home to reduce waste and lower your bills. Plus, energy efficient products are good for the environment, improve indoor air quality, and increase the resale value of your home. Don't just make it beautiful; make it efficient!
Here are some things to put on your checklist: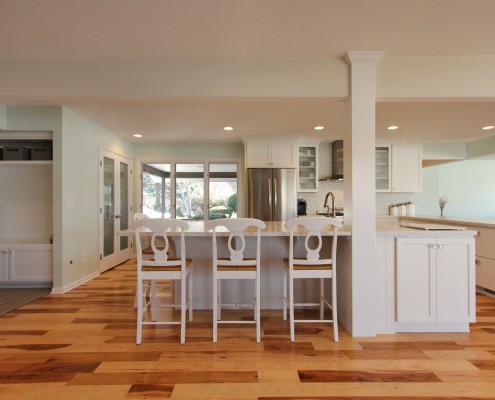 In the kitchen:
Choose Energy Star® appliances. Since they use less energy and water your energy bills will be reduced by over 30 percent!
Induction ranges use less energy than gas and electric stoves.
Use LED lighting for under or inside cabinets and workspace areas. They produce very little heat and will save energy.
Insulate hot water pipes
Install low-flow faucets. These can reduce water usage by up to 60 percent!

In bathrooms:
Choose low-flow sinks, showerheads, and faucets. Water pressure should be just as strong but will cut down significantly on water usage.
Install low-flow, dual flush toilets.
Use LED lighting for mirrors or vanity areas.
Consider radiant floor heating. It can increase efficiency by providing consistent heat, plus it eliminates airborne particulates that accompany forced air heating, which helps those who suffer from allergies.
Install a humidistat to reduce moisture and prevent mold. It will automatically turn on the fan when moisture rises.

In additions or other living areas:
Use sustainably harvested hardwood flooring.Replace windows or install new double-paned windows that are energy efficient low-e (low emissive) and coated to block out UV rays.
Add insulation with a minimum resistance value of 30 (R-30) and ventilation to keep the temperature of your house comfortable, reduce your energy bills, and improve air quality.
Sealing and insulating ductwork in your attic and crawlspaces will also improve temperature consistency in your home.
Upgrade or install air conditioners with a minimum Seasonal Energy Efficiency Ratio (SEER) of 14.5.
Upgrade or install a furnace with a 90 percent Annual Fuel Use Efficiency (AFUE)
Consider an "on-demand" hot water circulation pump designed to deliver hot water instantly to the fixtures throughout your home. You save energy and water by eliminating the need to run the water until it's warm enough to use.
Upgrade or install an Energy Star water heater with a minimum Energy Factor (EF) of .62 to reduce bills and save energy.
Skylights and solar tubes are great for bringing in more natural light.
Thompson Remodeling will help you make the right energy efficient selections for your particular remodeling project. We specialize in green remodeling projects for clients who are dissatisfied with their home's energy and resource efficiency, comfort, durability, and want their home to support a healthier lifestyle.


Topics: Love Where You Live, Bathrooms, Kitchens, Energy Efficiency