Open concept kitchens get all the glory these days and many of our remodeling designs feature this type of layout, but there are some situations where a closed kitchen is a better option. In some cases, a homeowner may prefer maintaining a home's original floor plan. You can usually count on finding the kitchen placed at the back of a Classic Colonial style home. In old historic homes, rooms are often divided by walls, allowing the kitchen, dining room, and living room to have dedicated spaces. Aside from architectural preferences, we also find that there are cases when a closed layout is more suitable to a family's lifestyle preferences.
We're dedicating this blog to closed kitchen layouts and will discuss its benefits and show you a few examples, including an award-winning Thompson project with a surprise feature!
What are the Benefits of a Closed Kitchen Layout
The kitchen is out of view from visitors.

Many homeowners don't want guests to see all the activity taking place in the kitchen to prepare a meal.

In an open concept kitchen all the preparations are on full display, but in a closed plan the pots, pans, and dishes won't be seen.
Great for formal dining.

Families that use their formal dining rooms regularly may prefer to have their kitchen closed off to create a more intimate spot for meals.
Reduces noise.

Working in the kitchen can be noisy and may disturb family or guests who are reading or watching a television show. On the flip side, some chefs may not want to hear conversations or other noise from the living room when they are cooking.
You prefer to keep the guests out of the kitchen.

Kitchens are a magnet for visitors, but they are less likely to congregate in a closed layout. In fact, you can more easily direct guests to living or dining areas, or wherever you wish.
More storage.This is a major benefit! In a closed plan you won't loose any of your dividing walls, which means you can customize your kitchen to accommodate all of the storage you need.
Here are two examples of closed kitchens Thompson Remodeling has completed.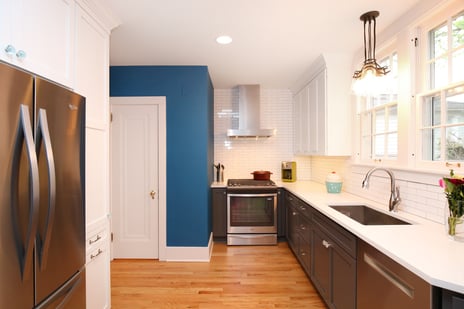 The owners of this Grand Rapids home came to us in search of a way to improve the functionality of their small kitchen. The existing layout was not only tight, but also included four doorways into other rooms. It was functioning more like a hallway with a few appliances added in for good measure.
One of the four doorways in this kitchen went to the basement. As we were considering the layout, we came up with the unique idea to create a walk-thru pantry!
Read more about this award-winning kitchen!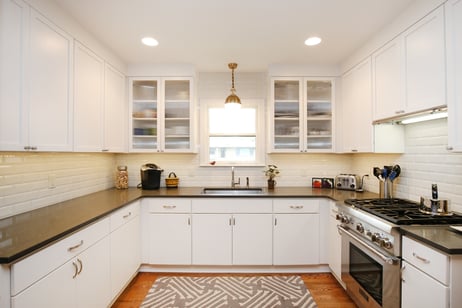 This gorgeous white kitchen remodel features a clean and symmetrical design. Its location between the family room and dining room makes it easily accessible but private. Key elements include glass front cabinets that flank the kitchen sink and dark quartz countertops that bring balance to the stark white cabinetry.
See more photos of this kitchen here.
Which you do prefer - an open or closed kitchen layout? To read up on open concept floor plans, check out our blog on the Top Benefits of Open Concept Floor Plan. Have questions or want to discuss remodeling your kitchen, give us a call!
Topics: Featured, kitchen remodel, kitchens, closed kitchen layout