Designing a shower might seem like a pretty simple task, but there are several important elements you must consider to ensure that it will be comfortable and fit your needs. Some homeowners are looking for something basic while others want all the bells and whistles of a luxury spa shower. No matter which you prefer, you should review each of the elements listed below when developing your shower design.
Size. Your first consideration is to determine how much space you have for your new shower. Are you going to utilize the exact same footprint as an existing shower or are you going to expand the size? Will you need to eliminate any existing features, like a soaking tub, in order to gain more space?
Curb or curbless entry. Like it sounds, a curbless showerhas no edge or curb to it and is flush with the flooring to eliminate the need to step in or out of the actual shower. If mobility is a concern either now or in the future, a curbless shower entry is a smart option.





Curbless Shower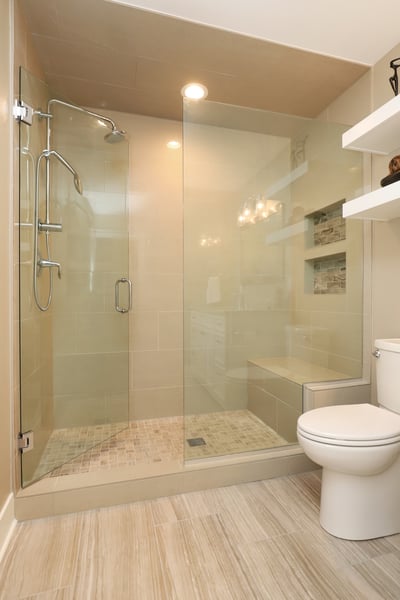 Curbed shower
Enclosure type. Glass shower doors or glass partitions are very popular for several reasons – they allow tile designs to be on display, make smaller spaces feel larger, and are relatively easy to clean. A less expensive option is to utilize a shower curtain or you can opt to have an open shower design without any type of closure.
Tile Design.

Tile is available in a wide variety of color, size, shape and texture and will the biggest element in driving the aesthetic appearance of your shower.

Many of our shower designs include a main tile for the walls, a colorful accent tile border, and a flooring tile.

Budget and personal preference should be considered when selecting tiles and your designer can be very helpful in suggesting options for you.
Fixtures and Controls. Here again, there are many options and styles to choose from including wall-mounted showerheads, ceiling-mounted rain heads, to luxurious hand-held shower sprayers.

If you are looking for a fully immersive, spa experience you will likely want multiple shower fixtures. Another important consideration is where to install the controls, as there is nothing worse than having to get wet before the water is warm.

There is also safety to consider when children are using the bathroom and now you have the option to select fixtures with temperature controls and presets.
Shelves and Niches.

Be sure to think about all of the items that you need to access while in the shower.

Include niches and/or shelves to house your shampoos, conditioners, soap, and razors.

Another great thing to include is a toe rest for shaving.
Seats or Benches. Installing a bench or seat is a must if you'd like a place to sit and relax or need a safe spot to sit and bathe.

Grab bars. Make your shower accessible and safer to use by including grab bars near the entry to your shower and on a main wall for holding onto or for balance while standing.
Light. Try to incorporate a source of natural light such as a high window or skylight. Add recessed lighting in the shower area to ensure plenty of light.
Visit our bathroom remodel portfolio for lots of shower design examples.
Topics: Featured, Bathroom Design, bathrooms, shower, design tips