Thompson Remodeling of Grand Rapids, Michigan has received a 2016 Design Award in the annual national competition presented by Professional Remodeler magazine. Thompson Remodeling won the Gold award in the Kitchen Under $50,000 category.
"This is the first Professional Remodeler Design Award for the Thompson Remodeling team and we are very excited to win in this very competitive category. This kitchen remodel was a challenge due to its size and position within the home, but our inventive design plan used every square inch wisely and even included a hidden doorway to the basement through the pantry," said Ben Thompson, President of Thompson Remodeling.
Professional Remodeler's Design Awards recognize outstanding remodeling projects in 23 categories. Entries submitted by residential remodeling companies from around the country are judged on quality, design expertise, material choices, and problem solving and creativity. Awards are determined by a panel of four expert judges from the remodeling industry. You can see Thompson Remodeling's winning kitchen remodel featured in Professional Remodeler Magazine here.
For more information on Professional Remodeler's Design Awards, visit ProRemodeler.com.
About the Winning Project
The small kitchen in this Grand Rapids home had an existing layout that was not only tight, but also included four doorways into other rooms. It was functioning more like a hallway with a few appliances added in for good measure.

Thompson Remodeling's designers had to work within current space and include the existing powder room in the new kitchen remodel layout. Our approach to the design was to use every inch of space efficiently. To start, that meant removing the peninsula that was causing traffic jams between the kitchen, basement, and living room. We also rearranged the placement of appliances to create maximum functionality. Previously, the homeowners were forced into a corner to access the refrigerator; we moved it to an adjacent wall and surrounded it with cabinetry. This is where the most inventive part of the design came in.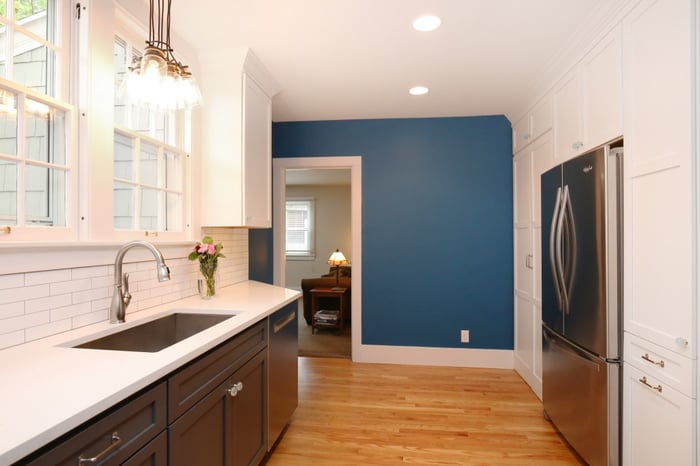 One of the four doorways in this kitchen went to the basement. As we were considering the layout, we came up with the unique idea to create a walk-thru pantry! We knew we wanted to move the refrigerator to make it more easily accessible and the clients also needed more storage. What if we could surround the fridge with cabinetry and build a pantry façade to hide the entrance to the basement? The clients loved the idea! The built-in cabinetry also houses a pullout trash bin, which was always difficult to place in their old kitchen layout.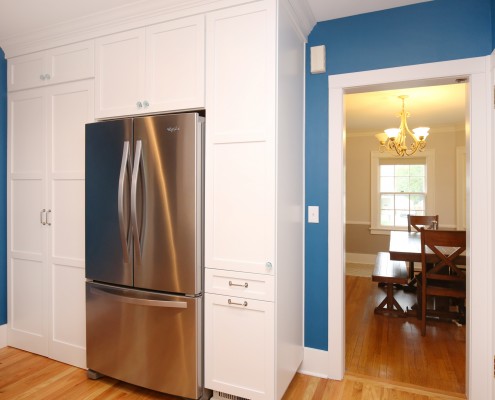 About Thompson Remodeling
Thompson Remodeling partners with you to discover your style and vision for your home. We create a custom design to meet your specific needs that is uniquely yours. Our process ensures that there are no surprises – your custom project will be built on time, on budget, and to your approved project plans. We want to help you Love Where You Live.
Based in Grand Rapids, Michigan – Thompson Remodeling is a design/build residential remodeling firm that has been serving Grand Rapids and the surrounding area for 36 years. Our award-winning firm is recognized as an industry leader on the national, regional, and local levels.
About Professional Remodeler
Professional Remodeler is a 100% requested magazine serving the top remodeling firms in the country. Professional Remodeler, and its website ProRemodeler.com, deliver award-winning business management articles, design solutions and product information to residential, commercial and specialty remodeling contractors. Published by SGC Horizon, a division of Scranton Gillette Communications, Professional Remodeler serves an audited audience of 96,916 remodeling professionals.
Topics: News, kitchen remodel, award-winning, professional remodeler, Thompson Remodeling, thompson remodeling grand rapids